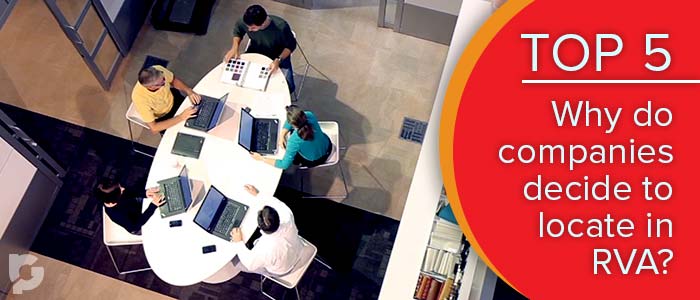 ---
Why do companies decide to locate in Greater Richmond? (A top 5 countdown)

The Greater Richmond region has so much to offer when it comes to business. But why exactly do companies decide to come to RVA? So we asked our outstanding Vice President of Business Information and he combed through hundreds of reports from companies who were attracted to the Richmond Region.
Choosing the right place to establish or expand business operations is critical and the selection process can be overwhelming. The challenge lies not in identifying exactly what Richmond has to offer, but in figuring out how to quantify those offerings and measure how Richmond compares to other places. For those of you who can't quite put their finger on exactly what makes RVA the best, look no further!
Here are 5 reasons Richmond's business scene is so attractive:
---
5. Higher Education
The main reason Greater Richmond is so rich in human capital is the major universities and several community colleges in the region. Ten four-year and 13 two-year colleges and universities offer undergraduate, graduate, and professional degree programs in all major fields, including business, law, engineering, and medicine, which provides an especially valuable recruiting pipeline to companies looking to hire young talent. A high quality of life with an affordable cost of living, a 25-minute average commute, high quality education and outstanding health care services make Greater Richmond a great choice for attracting and retaining top quality professionals.
To learn more about our highly educated workforce, click here.
Watch the Video: Gary Rhodes, President of J.Sargeant Reynolds Community College, talks about making higher education available to Greater Richmond and providing education for developing work skills.
4. Arts & Culture
The Greater Richmond region has historical significance, an emerging hipster and arts scene, and evolving foodie trends all wrapped into one southern capital city. The diverse arts and culture scene that continues to grow with the building or renovations of many new venues for sports, concerts, and theater. From our frequent running marathons to our cultural festivals, there's always an excuse to get out of the house and play on the weekends.
And on any night of the week, you can find live music at numerous local venues, from music clubs and restaurants to revived historic performance halls, including The National, Altria Theatre, and Richmond CenterStage, which regularly draw national acts. Publications and websites like Richmond.com and STYLE keep Richmond residents updated with calendars and news on the latest cultural events and activities occurring in town.
Watch the Video: Are you interested in relocating your work, family, or business to Greater Richmond? The region has something to offer people of all ages and walks of life. Learn what makes RVA such an ideal place to raise a family, to grow a career and a business.
3. Competitive Business Climate
Many companies consider Greater Richmond the first choice because of the supportive, business-friendly climate, competitive environment, and ease of doing business. Virginia's investment in its economic future comes in the form of a variety of performance-based incentives, from tax credits to tax exemptions. Local and state politicians and legislators work enthusiastically with new and expanding employers who demonstrate a willingness to invest in those who invest in Virginia, create a high standard of living for residents, and enhance local and state economies through increased revenue growth.
2. Affordable Real Estate
Real estate in Greater Richmond offers a variety of options for both small and large businesses. RVA has prepared sites and buildings in more than 100 office and industrial parks, plus four incubator facilities for small start-ups. Building costs in the Greater Richmond region are 13% below the national average and local economic development offices are ready to support fast tracking for real estate projects.
To search for available sites and buildings in Greater Richmond, click here.
1. Strong Workforce
The fact is, Greater Richmond boasts a workforce that outranks the national average in terms of quality and value. High educational attainment levels combined with an explorative approach to career planning is the main reason our workforce is so uniquely diverse. No matter the career path or industry, Richmond-based companies have the luxury of being able to recruit from a pool of high-performing employees with the necessary skills to be successful across a wide range of career paths and industries. Plus, the region has low levels of union activity because Virginia is an at-will, right-to-work state. Being one of the fastest growing metro areas in the country, RVA has experienced increased economic and housing growth which makes it an easy destination to relocate. Essentially if you are a company that can bring great jobs to Richmond, we have as much local talent as you can afford.
Watch the Video: Greater Richmond's workforce and job market draws labor from more than 40 localities statewide. Diverse industries and companies, combined with numerous educational institutions, provide an ample supply of employees with positive work attitudes and a range of skills and experience for new and expanding companies.
---

CONCLUSION:
There are plenty of reasons why companies and site selectors choose to put Greater Richmond on their short lists, and a few of these top 5 were eye openers! But as you can see, the Richmond Region has a lot to offer businesses and their employees alike.