Reasons 6-10 why companies choose RVA:
The Greater Richmond region has so much to offer when it comes to business. But why exactly do companies decide to come to RVA? Choosing the right place to establish or expand business operations is critical and the selection process can be overwhelming. The challenge lies not in identifying exactly what Richmond has to offer, but in figuring out how to quantify those offerings and measure how Richmond compares to other places. We've previously listed the top 5 reasons why companies choose the Richmond Region, but here are reasons 6-10 (in typical countdown format, of course!)
10. Business Training Programs
RVA has numerous agencies that provide ongoing support for local companies, including the Business First Greater Richmond program and other workforce programs listed in the SourceLink database of business assistance organizations. We also have great workforce training programs like the Community College Workforce Alliance (CCWA). The CCWA provides world-class workforce training and services to both the public and private sectors to enhance individual lives and the economic vitality of the Central Virginia region.
Whether you're looking for some good old-fashioned advice to better manage and grow your business, information on available financing resources, or help recruiting new employees and training ones you have already, solutions to address your business' unique challenges are only a click away.

9. Local and State Support
Greater Richmond has received many accolades in recent years due to the numerous local and state government agencies that provide universal business support for free.
Economic development agencies from the local, regional and state level ensure the success of businesses in the region by connecting them to resources that can help them flourish in the Greater Richmond Region. When you start discussions with the Greater Richmond Partnership, you'll receive plenty of information and data to help you narrow your site selection. But hang on to your hat, because when you visit the area you'll receive a detailed itinerary outlining the contacts and resources for your group to meet. The Partnership values your time, and we make sure to make the most of your visit to the region. Just listen to Shannon Walls, of Aspen Products, speak about his experience:
7 & 8. Transportation/Mid-Atlantic Location
RVA's central location allows it to benefit from economic growth happening throughout the state. It is also centrally located between Maine and Florida, which gives Richmond-area businesses timely access to corporate headquarters and production facilities along the entire East Coast. Richmond is strategically located approximately 100 miles south of Washington, D.C. and 90 miles north of Norfolk, while also being within a 750-mile radius of more than 50 percent of the nation's consumers. Richmond's location is arguably its greatest strength.
Two major highways — Interstate 95, a North/South thoroughfare, and Interstate 64, an East/West thoroughfare — converge in Richmond. The region is served by the Richmond International Airport and is within 45 miles of the Washington Dulles International Airport and the Ronald Reagan Washington National Airport. The Port of Virginia's Richmond Marine Terminal, which offers a range of logistical support services (i.e. stevedoring, supply chain management, export packaging and transfer, and warehouse and inland distribution services), is located four miles south of Richmond's central business district. In addition, Richmond is within 90 miles of the Port of Virginia, the world's largest natural deep-water harbor. And the region is served by major rail services, CSX and Norfolk Southern.
Click here for interactives maps that include the Greater Richmond region's transportation network, access to markets, and more.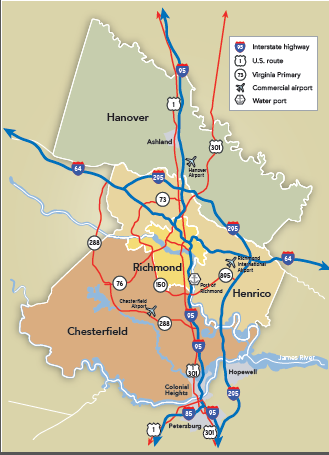 6. Quality Public Education
RVA invests heavily in the region's educational system (K-12, community colleges, and four-year institutions) to ensure the availability of education and training programs for their citizens so that they can compete for new economy jobs, thereby enhancing the community's attractiveness to businesses. RVA's population ranks third out of the 10 peer regions in terms of college degree attainment.
In addition to magnet and specialty programs in each locality, Greater Richmond's gifted students are eligible for accelerated programs at the regional Maggie L. Walker Governor's School for Government and International Studies in Richmond and the Appomattox Regional Governor's School for Arts and Technology in Petersburg. And if math's your thing, the regional MathScience Innovation Center provides special facilities and classes in STEM that would not be feasible for individual school systems.