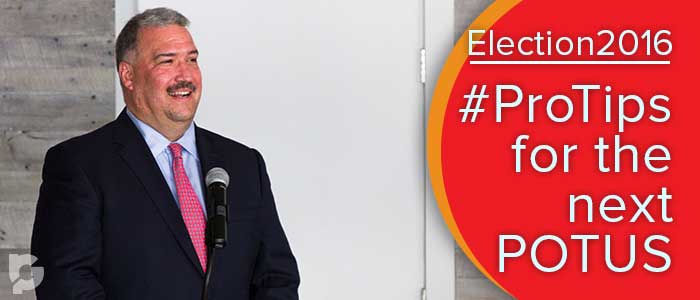 Barry's recommendations for the next President
Note: This post has been adapted from a speech created in conjunction with the International Economic Development Council.
Next week, America will make a very important series of choices. Here are some ideas from the perspective of economic development, that the next President of the United States should consider when forging ahead with their economic agenda:
Workforce Development
Workforce development is a critical component of economic development. In 2014, congress passed the Workforce Innovation & Opportunity Act which took a number of steps in the right direction. Economic developers were pleased to be included on state and local workforce boards to align workforce development plans with regional economic development strategies. It's an acknowledgement of the clear connection between workforce and economic development. The next administration should continue to encourage this close collaboration.
Congress and the administration are currently in agreement on restoring full-year Pell Grants, allowing students to access financial aid through summer months. Pell Grants are important for students in Career and Technical Education (CTE) institutions that are working toward high-demand certifications and degrees. Full year Pell Grants would support faster training and higher graduations rates for exactly the type of workers our economy demands. The next administration should actively support full-year Pell Grants as a bipartisan priority in the early days of their administration.
Manufacturing
Manufacturing is on the rebound in the U.S., (and we've seen an uptick recently in Greater Richmond,) but we're still millions of jobs behind where we were before the great recession. The current administration has placed an emphasis on an all-of-the-above approach supporting existing manufacturers, reshoring manufacturers, and the creation of new ones. We encourage the following administration to continue this approach.
An excellent example of this approach is the National Network for Manufacturing Innovation. This program is designed to bring together industry, universities, and local, state and federal governments to spur manufacturing innovation, which translates into American jobs. So far, the program has attracted more than 1,000 companies, universities, and non-profits as partners.
The next administration should continue to support initiatives like NNMI as a common sense move that harmonizes private sector resources with federal dollars. A strong manufacturing sector would dovetail with innovation ecosystems and strong workforce systems.
International Opportunities
International opportunities, including foreign direct investment (FDI) attraction, export promotion and increased trade, are a leading cause for growth in economies at a local level. The Bureau of Economic Analysis has reported that 2015 was another record-setting year for FDI's impact:
4 million jobs supported by majority foreign-owned businesses
$57 billion in R&D funded by majority foreign-owned businesses
$425 billion in exports from majority foreign-owned businesses
Economic developers in a variety of communities have begun to look beyond our borders to find new investors and businesses. Here in Greater Richmond, 170 foreign-owned firms have chosen our area for sites and we hold a steady 60-65% of our prospects as international. In the wake of the Great Recession, it's essential to globally expand the U.S. market.
Small Business
Small businesses and entrepreneurs are a critical part of our national economy. In the years since the recovery began, access to affordable capital has remained an obstacle, particularly for minority and women owned businesses. The next administration must prioritize using the resources of the federal government to support small businesses and entrepreneurs.
The Small Business Jobs Act of 2010 created the State Small Business Credit Initiative (SSBCI) to strengthen state programs that support small businesses and small manufacturers. SSBCI is designed to help spur new private sector lending or investments in small companies by leveraging the federal support from the program. The next administration should look to extending SSBCI as an opportunity to help small businesses and foster an atmosphere of bipartisanship.
Locally, the Metro Richmond Exports Initiative is an excellent tool to help businesses in our area begin or expand exporting abroad. The MREI works to increase exports outreach and to improve systems already in place through educational and assistance-based programs.
Economic Opportunity
Economic opportunity has become a national conversation, and is perhaps our most challenging matter at hand. Economic disparities in incomes and opportunities harm not only the quality of life of our communities' residents, but also harm the economy. The International Economic Development Council's recent publication Opportunity for All: Strategies for Inclusive Economic Development begins the discussion in the economic development profession for conversations focusing in on equal economic opportunity. Our elected leaders in Washington should follow suit.
Next Steps
The truth is, the federal government plays an active, daily role in the successes and failures of our local and regional economies. The economic development profession must continue to be engaged with local and state partners to promote that these challenges are not insurmountable, but that they need our attention and action immediately.